« Back to news
SBN Report: NZ's Plastic Packaging System
3 December 2018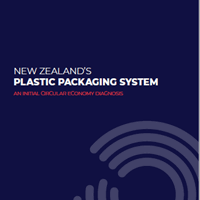 Joint Statement: Packaging NZ and Plastics NZ
WORKING TOGETHER FOR A BETTER FUTURE
Packaging NZ and Plastics NZ welcome the report released today by the Sustainable Business Network on New Zealand's Plastic Packaging System and generally endorse the strategies presented to assist NZ in moving towards a circular plastics packaging economy. The number of contributors to the report demonstrates the widespread commitment across New Zealand's stakeholders to be a part of the solution.
The shocking amount of plastics in the marine environment, while coming mainly from countries with under-developed waste management infrastructure, has created an unprecedented energy and motivation to collaborate in creating solutions to the issues. Packaging NZ and Plastics NZ are committed to sensible, well-considered, fact-based action which creates enduring solutions and will safeguard our industries, and society in general, against knee-jerk reactions which result in un-sustainable outcomes.
We totally support the need for a National Strategic Plan and have been advocating for this for some time. Solutions must be found which suit the New Zealand context. It is an inescapable fact that packaging exists in a complex eco-system. Simplified characterisation of packaging as 'good', 'bad' and 'single-use' ignores the important ability of plastics packaging to safely deliver products to market in perfect condition, across long supply chains, and with lower environmental impact than most other packaging materials.
We certainly support brand owner and retailer actions to eliminate unnecessary packaging, reduce problematic materials, increase recycled content and to launch innovative reuse models. The biggest challenge for our industries, which ultimately will be responsible for meeting commitments in this space, is to design systems which meet expectations but still prevent product waste, don't compromise health and hygiene, and that don't put cost pressures on the most vulnerable in our society. We must avoid changes which push manufacturing off-shore, putting New Zealand businesses and jobs at risk, especially where it is clear there will be no net benefit socially, environmentally or economically.
The goal of a circular plastics economy, where all plastics packaging is collected, reused or recycled into similar new products, is laudable and the ideal. The journey to achieve this goal requires government leadership both central and local, sector collaboration, new infrastructure and considerable technical innovation. We also need to engage society to address consumption and tackle the scourge of litter and illegal dumping which is wreaking havoc on our pristine environment. To create such extensive and systemic change we must all work together for a better future.
***
For further information contact:
Sharon Humphreys
Executive Director
Packaging New Zealand
Mobile: 021 612 052
Email: sharon@packaging.org.nz
Ken Sowman, CEO
Plastics New Zealand
Phone: 09 255 5662
Email: info@plastics.org.nz
« Back to news