« Back to news
Best Before/Use By dates - RMIT Project
14 May 2019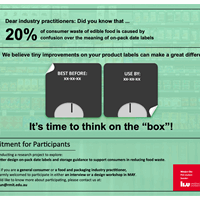 Together with members of the AIP we would like to encourage all of our Members to please help Wanjun Chu with his PhD. Wanjun is a PhD student from Linköping University, Sweden. His general research focus is on the topic of design for sustainable behaviour and sustainable interaction design. Currently he is working with Professor Karli Verghese FAIP from School of Design, RMIT, where they are conducting a research project to systematically explore how to better design on-pack date labels and storage guidance to support consumers in reducing food waste.
Relation between on-pack labelling and consumer food waste:
On-pack date related label is one of the most direct information carriers used in food industry to communicate specific product attributes with consumers. On one hand, it is regarded as an effective tool which can help consumers to make informed consumption decisions. However, on the other hand, it has been identified as one of the major factors that contributes to the problem of consumer food waste.
Industry's opinions matter:
Specifically, in this project, RMIT are interested in exploring and experimenting novel ways to create better interactions between these on-pack information attributes and consumers. In order to achieve this, RMIT would like to reach as many industry participants as possible to understand your knowledge, experiences, difficulties, and suggestions regarding the design of on-pack date labels and storage information.
Practical sustainability values and potential benefits for industry:
Apart from learning from industry practices, RMIT also aim to make practical changes in people's daily life and bring potential benefits to food and packaging industry practitioners. Wanjun has developed a digital mobile app prototype, which integrates the newest technology (Augmented Reality & AI assistant) with the on-pack date labels and storage information to help consumers make more tailored and informed food consumption and disposal decisions. RMIT would like to collect your feedback and co-design this new consumer-packaging interaction concept with you.
Interview and design ideation session
The way RMIT would like to engage you in this research is through an interview & on-pack label design ideation session, which lasts approximately 90 minutes in total. Depending upon your own schedule and preferences, they can always adjust the session time accordingly.
Regarding the place of the interview and design session, it would be great if it could take place at the environment that you are comfortable with, for example RMIT can visit you and conduct the session in your company or organisation. You are also welcome to visit RMIT, where they will arrange the meeting for you. Video or telephone interviews can be an alternative in case you are unable to meet face-to-face.
Contact information: http://chu.wan.jun@rmit.edu.au
If you are interested in participating, or want to know more about the project, please feel free to contact: Wanjun Chu will then send the detailed information Sheet and Consent Form to you.
« Back to news