Jurlique International.
Winner of the 2017 APCO Outstanding Achievement in Packaging Stewardship Award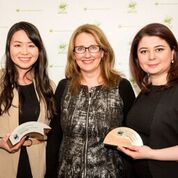 Jurlique has taken Packaging Stewardship to the heart of their business and operations.
They maintain stringent guidelines around product development and packaging, are actively engaged with their suppliers, and have encouraged excellence in sustainability across their supply chain. Utilising Sedex to source responsible supply chain partners and creating their own in-house methods such as supplier scorecards, they have taken a proactive role in supply chain management for their brand.